SELF HELP Window Boarding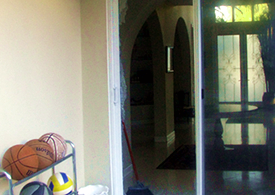 Window Boarding Specs
Currently there is no specific licensing, or guide lines regulating emergency board up Services, and how they are to be done, a professional board up service should be safe and take reasonable care not to cause further damage to a customer's property.
They should examine the scope and maintain a certain level of workmanship necessary to prevent injury, and provide the security needed to protect ones assets from further loss.
Broken shards of glass may still be present, and should be removed to prevent injury before performing a board up. Boards should be measured and cut to size then mounted on the exterior surface with no gaps allowing air, or moisture to seep in, to assist in weatherization. With this said techniques vary from company to company.
Option 1 the strong back method by mounting boards to an opening using carriage bolts that pass through the opening joining the exterior board up to a 2x4 on the inside with a nut and washer. This is the most secure way of performing an emergency board up.
There are times when this method must be deviated however, and circumstances will dictate that.
For example: when a commercial building board up is performed in the middle of the night, or the customer is not present, the strong back method usually is not an option because the board up serviceman cannot exit the building after fastening the bolts on the inside.
The board up company should seek all options when performing an emergency board up, to prevent further damage to a customer's property.
Option 1: The strong back method

Option 2: The slip cleat method: The slip cleat method is done by first removing the window vinyl from the opening, and then cutting 4 inch plywood strips to fit into the glass pocket creating a new surface for the plywood to be attached, causing no damage to the storefront.

Option 3: The wedge method: The wedge method is done by cutting 2x4's to fit the opening, then gently tapped in snug, so that the plywood can then be fastened the 2x4's. If the frame will not support the slip cleat method, or 2x4's are not available, the technician may apply the screw to frame method

Option 4: The screw to frame method: The screw to frame method is the least desirable method of all, but effective. The board is then screwed to the frame causing damage to the store front by leaving tiny holes in the metal.