Commercial Board Up Service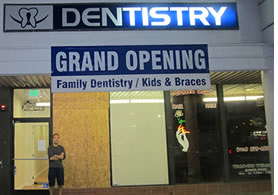 In Los Angeles as long as there is glass, there will be broken glass.
With that said if your business suffers from one of the many cost of doing business expenses such as a broken store front window, or broken door glass, the chances are that the broken window may have to be replaced with tempered safety glass.
Tempered safety glass can take anywhere from 2 days to 2 weeks to have delivered. In the mean time you have found yourself looking for an emergency board up service to perform a window board up until you can get the necessary glass repairs done. With so many emergency board up services to choose from, you have chose the best.
The Board Up Company is available 24-7 ready to respond in a moment's notice.
The Board up Company offers complimentary glass clean up, Board up services, and glass repair services. Your one stop shop to excellent emergency service company that will earn your return business.